We use affiliate links. If you purchase something using one of these links, we may receive compensation or commission.
Semrush for Keyword research is an integral part of any digital marketing strategy, and its importance will never fade away. Here's a guide to help out.
This guide answers the following questions:
What is keyword research?
What keyword research terms and metrics do I need to know?
How do I find hot topics for content?
How do I find the best keywords for organic traffic?
How do I find the most cost-effective keywords for a PPC campaign?
How do I track my website's performance for specific keywords?
What are some advanced keyword research tactics?
What is SEMRUSH Keyword Research?
Keywords are the terms that people enter into search engines to find information. Keyword research is the study of these search terms to find out where the search traffic in your market comes from, and determine which keywords your website can target with marketing.
Keyword research helps you:
Understand and reach your audience
Find new relevant topics to cover on your site
Get qualified leads
Increase sales
Improve ad campaigns, get clicks and impressions
Build awareness of your brand
Why You Should Do Keyword Research On a Regular Basis
Keywords change — there will always be multiple ways to say the same thing and trends often change the queries people search for online.
Your audience grows and evolves, and the way people use search engines changes.
Search engines evolve too; algorithms get more advanced to better understand content and also match users' intent.
You need to keep upgrading your content for it to be relevant.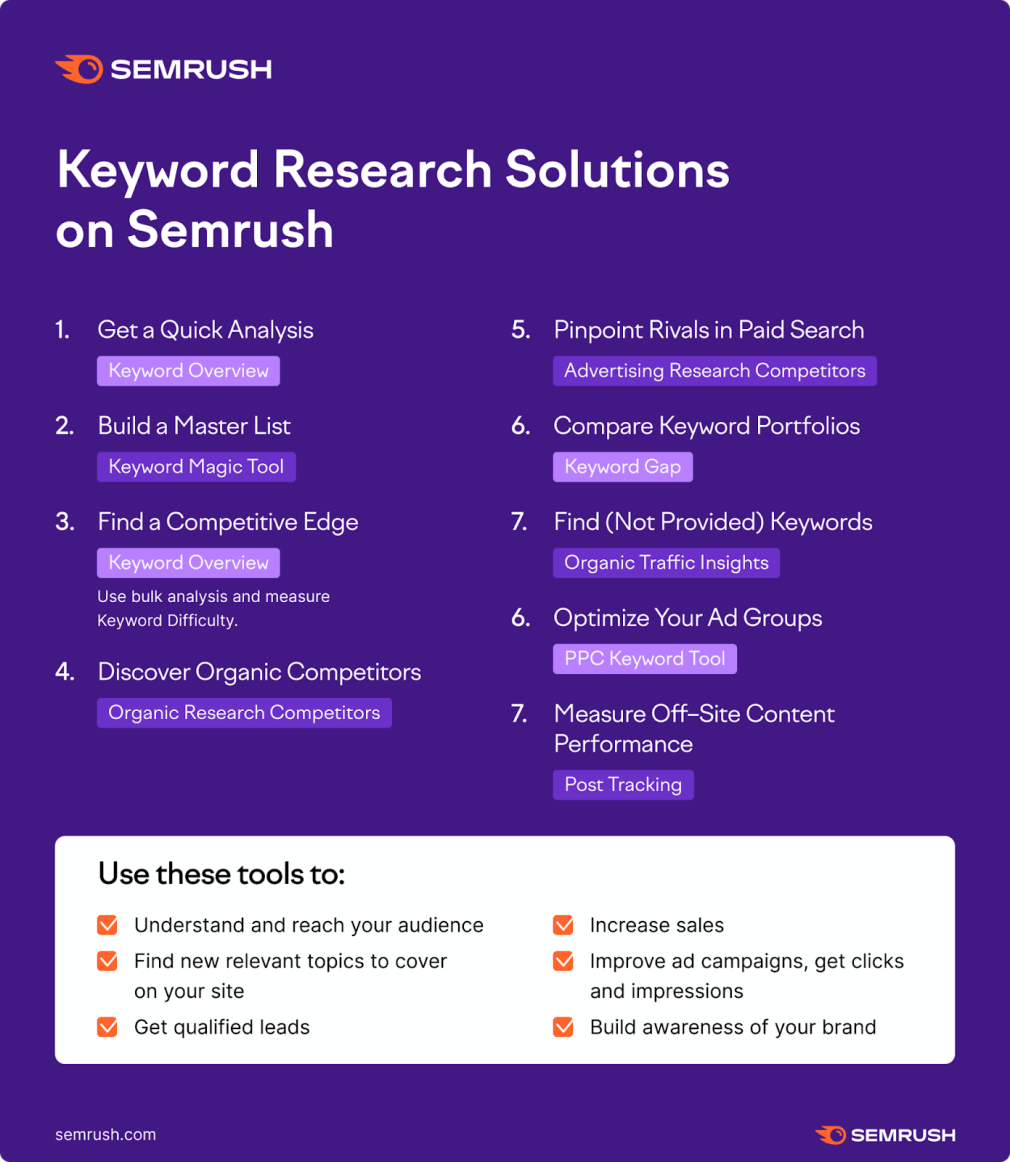 Keyword Research Basics
The Semrush toolkit offers you several ways to gather the best keywords; good basics never fail, and traditional keyword research is where you should start.
Steps to take:
Keyword Overview: Get a Quick Analysis
Keyword Overview is the easiest way to get a quick analysis of your keywords. A comprehensive summary of all major keyword metrics — volume, CPC, competition in paid search, top-ranking pages, ad copy, and more.
Launch the report, enter your keyword in the search field, and start analyzing.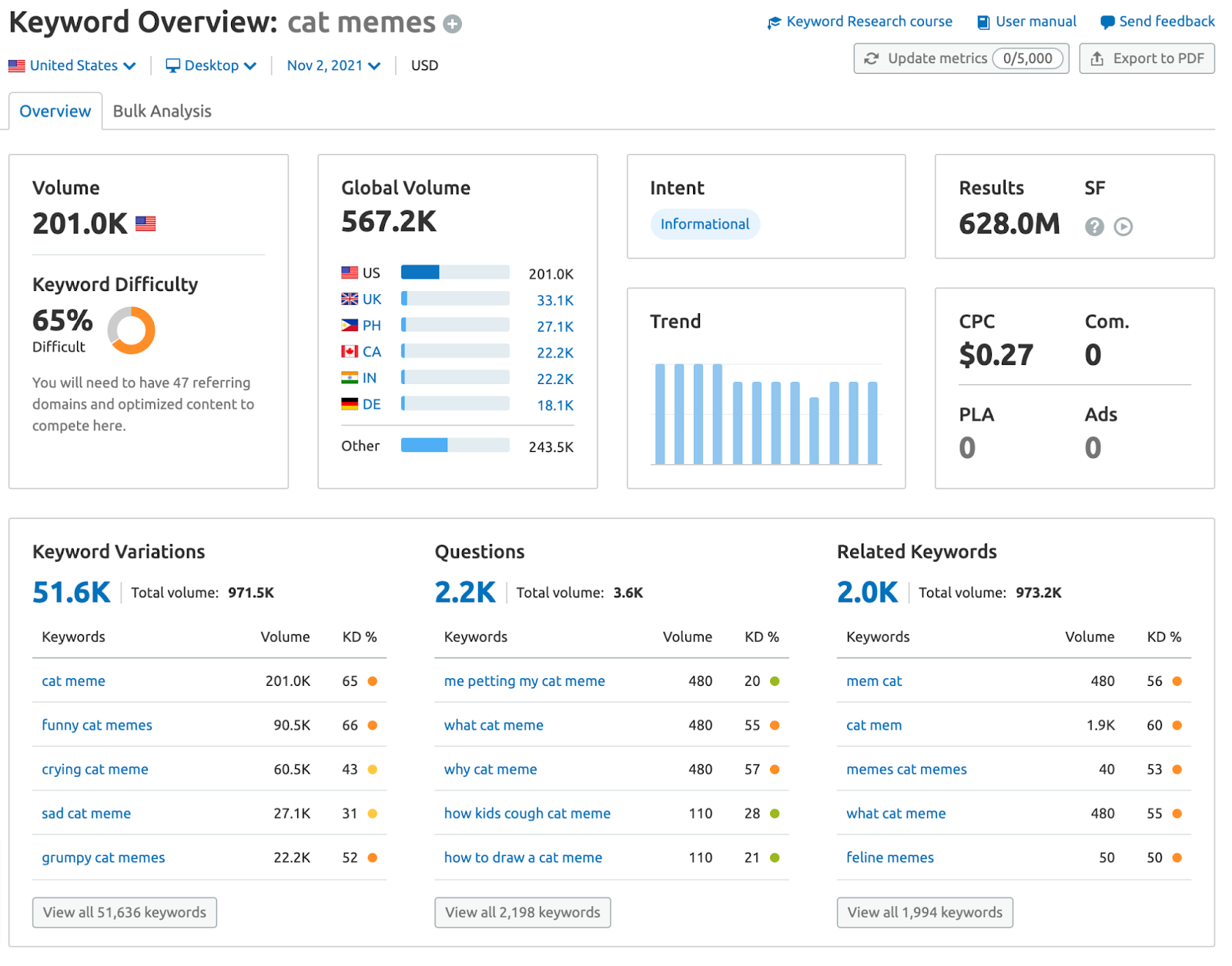 Keyword Overview: Ad History Report
The Ad History report lets you identify advertising trends, and understand if the keyword was previously actively used in paid search.
See all of the domains that bid on the given keyword and had a PPC ad over the last 12 months.
The number in the cross-section shows the paid position that the ad occupied in the given month. Note that this position isn't necessarily the location of the ad on the search results page. Even if you are the highest bidder, your ad can appear under the organic search results.
You can also see the amount of ad traffic, ad traffic price, and the total number of ads for that keyword.
Keyword Magic Tool: Build a Keyword Master List
Keyword Magic is a powerful tool for in-depth keyword analysis and for building terrific master lists. Explore your niche, and find semantically related long-tail keywords broken down into topic-specific subgroups.
Start with a single seed keyword:

Hit Search and get to work:
Explore the suggested groups and subgroups of related topics to find niche long-tails and ideas for your PPC ad groups. Sort groups by volume or by the number of keywords; exclude groups that you don't need with an eye icon. Bear in mind that all advanced filters you have applied will also apply to the list of topics.
Pay attention to the Match Modifiers, allowing you to broaden or narrow down the keyword selection to your liking.
Make use of the Questions Filter; this neat feature will sort out question-based keywords. These keywords drive tons of quality traffic and often trigger featured snippets, which can serve as a shortcut to the top of SERP.

Use flexible Advanced filters to further specify the scope of your key phrases with the range of word counts, search volume, keyword difficulty, CPC, competitive density, and the number of results in SERP. Include or exclude keywords with broad or exact matches, and pick SERP features to show the words that trigger them (some words can trigger multiple features).
Here's a quick video walkthrough of how you can use this tool in combination with Topic Research to map out your content strategy to align with search.
See all of the domains that bid on the given keyword and had a PPC ad over the last 12 months.
The number in the cross-section shows the paid position that the ad occupied in the given month. Note that this position isn't necessarily the location of the ad on the search results page. Even if you are the highest bidder, your ad can appear under the organic search results.
You can also see the amount of ad traffic, ad traffic price, and the total number of ads for that keyword.
Keyword Difficulty: Find a Competitive Edge
As you probably know, you won't be able to rank highly for every keyword in your master list right away. You need to choose wisely where to put your efforts first.
Hence, the Keyword Difficulty metric.
This metric index is a percentage (1–100%). The higher it is, the harder it would be to outrank your competitors in organic search results.
Keyword Difficulty will estimate how hard it will be to organically outrank your competitors for a given keyword. You'll find this metric as a column in nearly every Semrush report listing keywords as KD %.
To analyze keyword difficulty in bulk, you can enter up to 100 keywords at a time in the Keyword Overview report.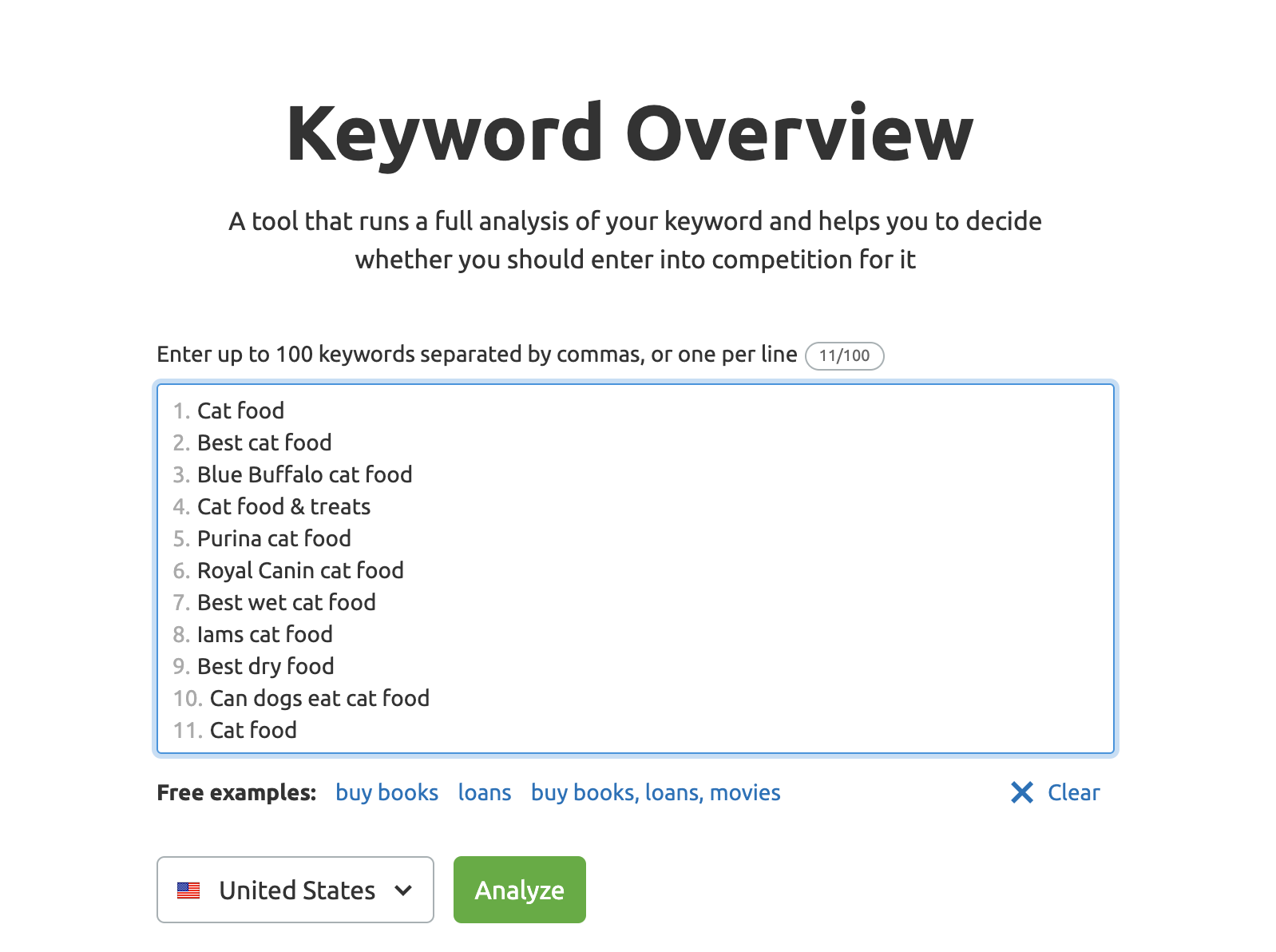 Besides difficulty, this report shows the monthly volume of a keyword, the number of URLs in organic results, and SERP features. You can also see the SERP's snapshot and the trends of a keyword's popularity over the previous 12 months.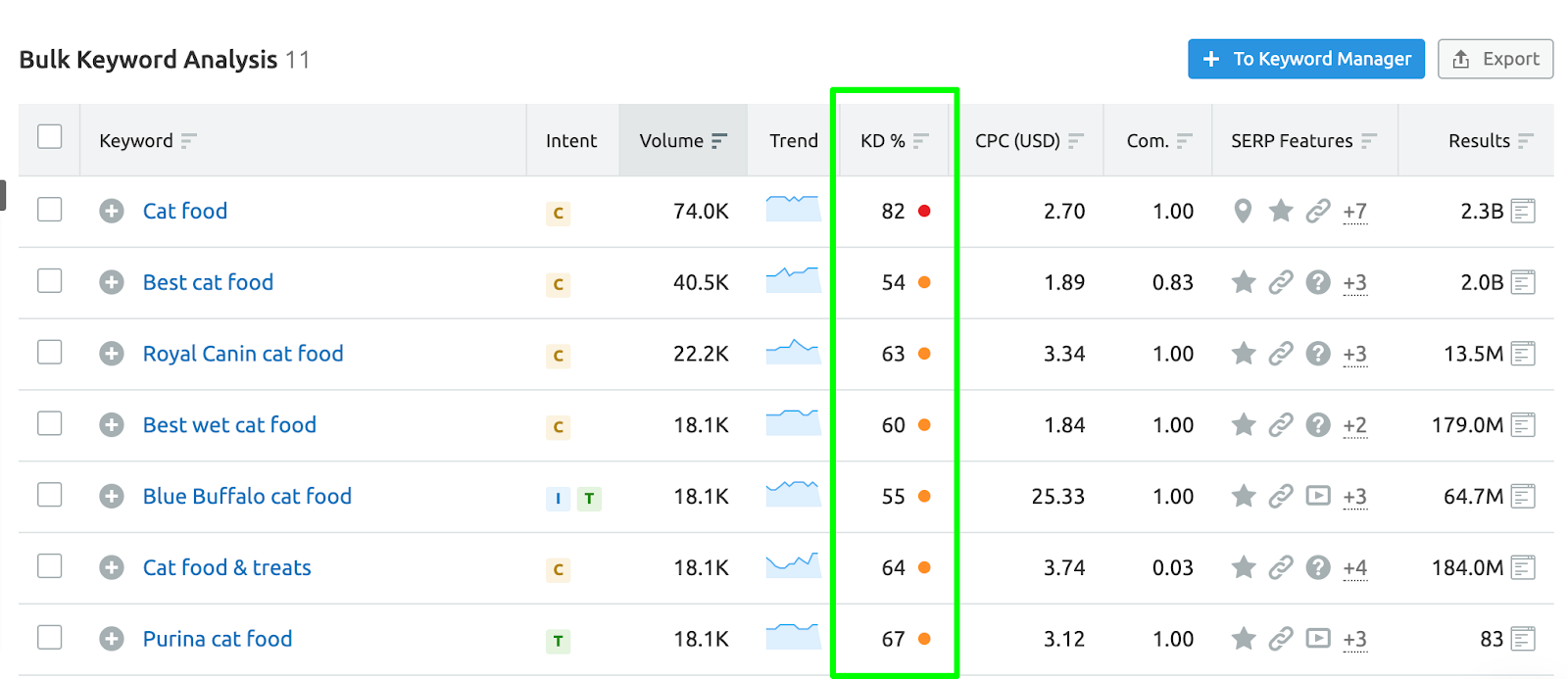 With this knowledge, you can locate the best low-competition keywords you can realistically target in organic search and which you shouldn't waste your SEO resources on, and maybe turn to PPC instead.
Finding keywords with low competition levels takes patience, but it pays off as you will not waste time and energy striving for unrealistic ranking goals.
Competitor-Based Keyword Research
Competitor-based keyword research is another approach; this method uses websites that are already on the SERP as a jumping-off point.
Instead of seed keywords, you gather seed websites to start the research.
Steps to take:
Organic Research: Discover Your Organic Competitors
With Organic Research, you can find your organic search competitors, see the keywords they rank for, and examine the recent ups and downs of their pages in search results.
To start, go to Organic Research, enter your domain in the search bar, select the Competitors tab, and scroll down to the table:

Now you have a list of your competitors; these will serve as your seed domains. The list is sorted by the Competition Level — this metric shows how close of a competitor the website is to the one you have entered; it is based on the total number of keywords the competitor is ranked for and the percentage of keywords they share with the given website.
Sort the list of domains by the Competition Level or by the number of Common Keywords. Click the arrow icon to open the website in a new tab, or click the domain name to reassemble the report for it.
How to Get Your Competitors' Keywords
Next stop is the Positions report of the Organic Research for your seed domain.
Here you can see all of the keywords that a given domain is ranked for in the top 100 search results. Each keyword a domain ranks for is accompanied by the URL of the corresponding landing page and some metrics to guide your research process.
The list you will get will probably be too long, so you can add some filtering options by clicking on the Advanced Filters button.
For example, we can find keywords with KD less than 60 that include the words "cat food."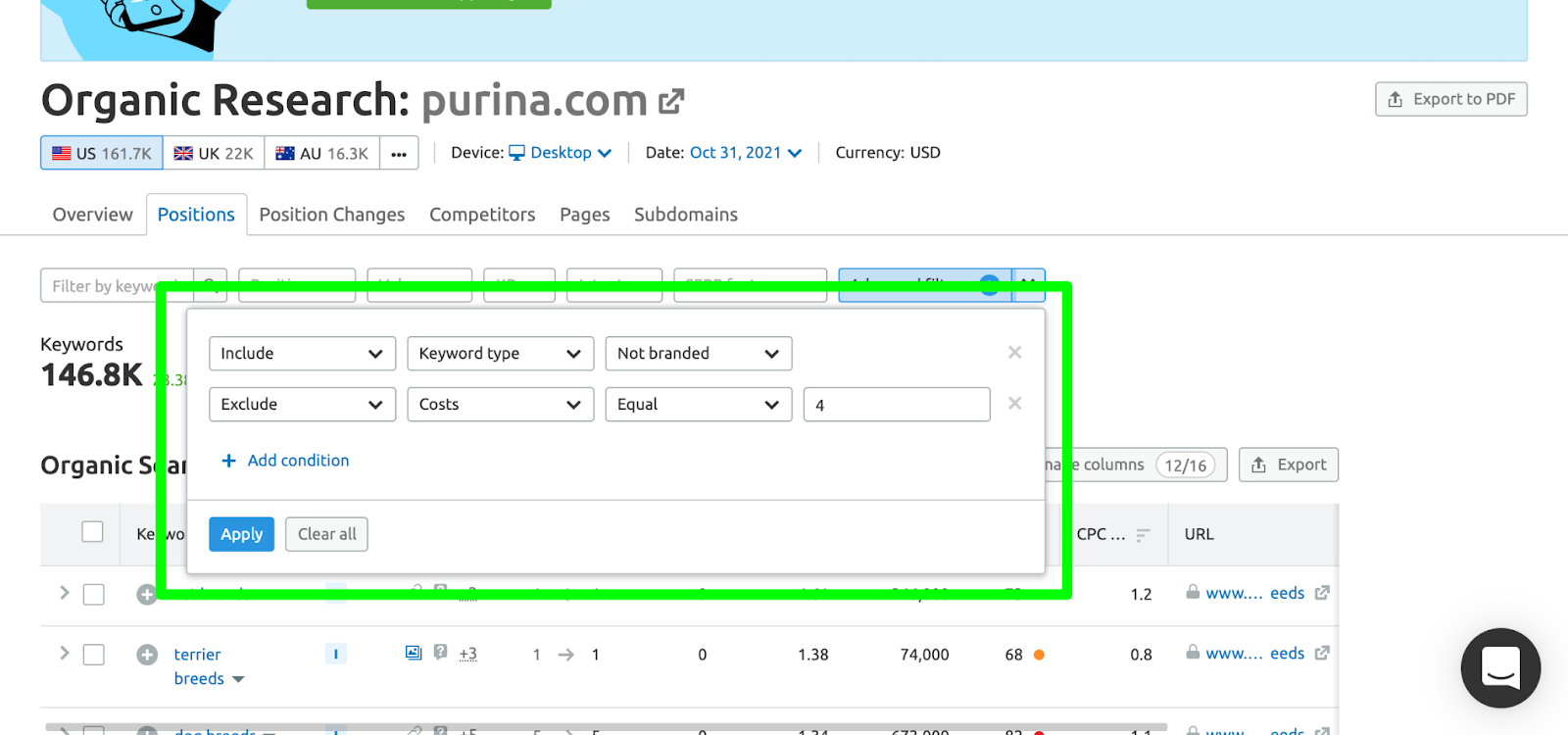 Try other filtering options in different combinations to get the most relevant data.
Find Opportunities
There is an easy way to find potential quick wins — you need to keep an eye on your competitors' ranking changes.
Go to the Position Changes tab, and take a look at the lists of Lost and Declined keywords.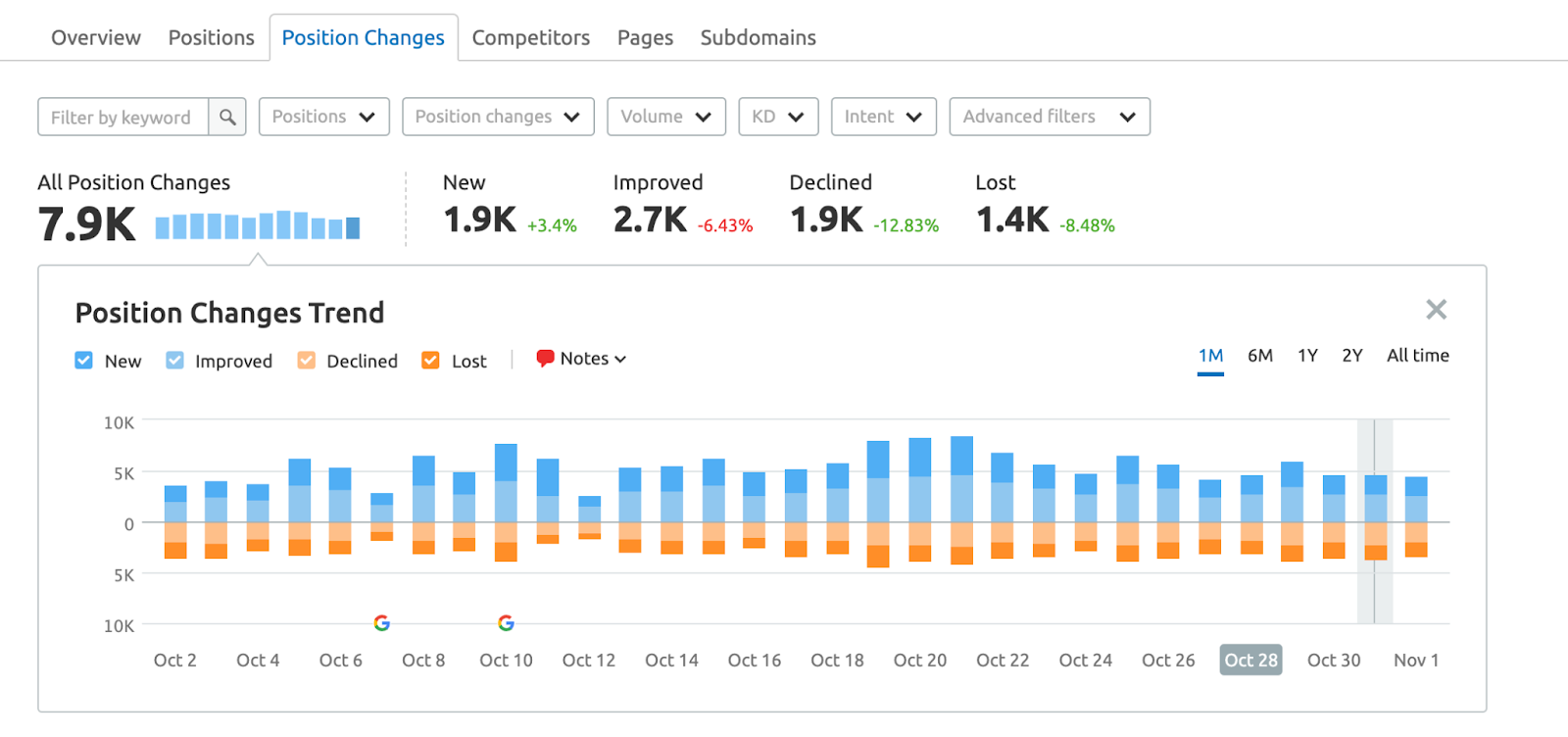 Declined — The domain's positions for these keywords dropped, but it still ranks in the top 100.
Lost — The domain is no longer ranking in the top 100 for these keywords.
Try adding different filtering options, and with some luck, you may find keywords to capitalize on.
Advertising Research: Pinpoint Your Rivals in Paid Search
Finding paid competition for any domain is also a piece of cake with Advertising Research. Your workflow here will be similar to Organic Research.
Start the report, type in your domain, and switch to the Competitors tab.
At the top of the report, you can see a Competitive Positioning Map. This visualization is based on the domain's Paid Search Traffic and the Number of Paid Keywords, so it gives a nice overview of a paid search competition landscape.
Below you will see a table listing Paid Competitors of the analyzed domain.
The table is by default sorted by the Competition Level in the same manner as in Organic Research, except it uses paid keywords for the calculation.
Here you can easily pick up your seed domains from your top competitors.
Click the arrow icon to open the website in a new tab, or click the domain name to reassemble the report for it.
Analyze Your Competitors' Paid Keywords
To collect and analyze the keywords your competitors are bidding on, go to the Positions report of Advertising Research.
To make the most out of this report, use Advanced filters (e.g., Include Volume Greater than 1000, and Exclude Keywords with your competitor's brand name.)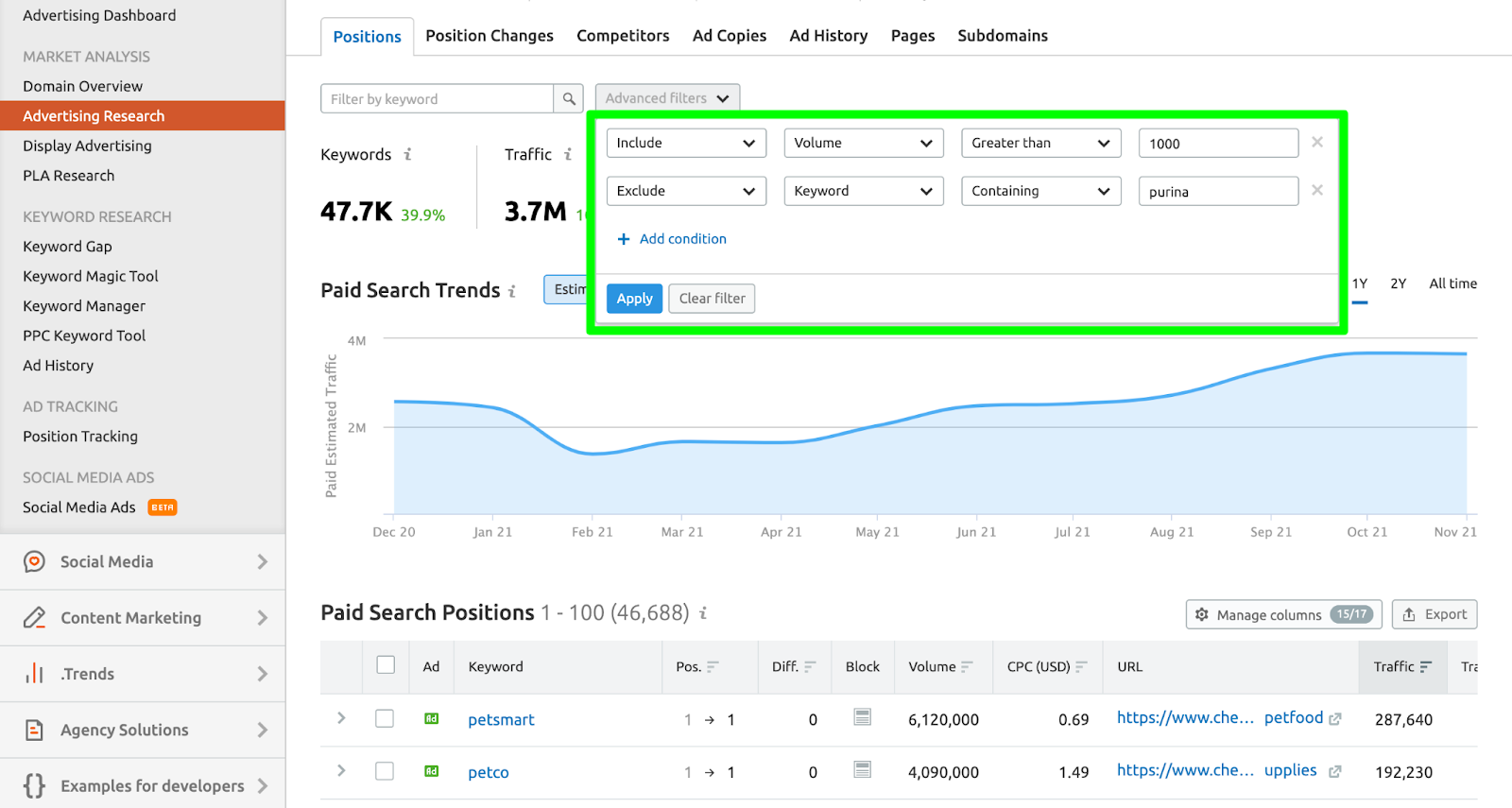 Try different filter combinations to narrow down the list, and find low-cost and low-competition keywords for your PPC campaign.
Keyword Gap: Compare Keyword Portfolios
The Keyword Gap tool allows you to compare multiple domains' keyword profiles side by side. It's a great way to visualize exactly where and how much you're being outperformed in search rankings. Then, you can drill down on specific opportunities to optimize your site for.
Here's a quick walkthrough of how it works:
Keywords in Content Marketing
Some might say that content is just a tool of SEO, which is partly true—content marketing and SEO go hand in hand and overlap a lot. The success of each one is in large part, determined by the quality of the other.
SEO can be thought of as technical, while content marketing is broader and more about the messaging. Keyword research for content marketing comes down to finding out what interests your audience and what's trending.
So, before learning the nuts and bolts of keyword research for SEO and PPC, let's start with a more casual approach.
Topic Research
With the Topic Research tool, you can find hot topics, and generate content ideas and catchy headlines without digging deep into big data.
Topic Research is a simple yet effective tool for generating resonating topics, subtopics, and ideas to include in your content.
Just think of anything you might want to cover on your website and enter it in the search bar.

You can specify the location down to the city level to target your search for ideas.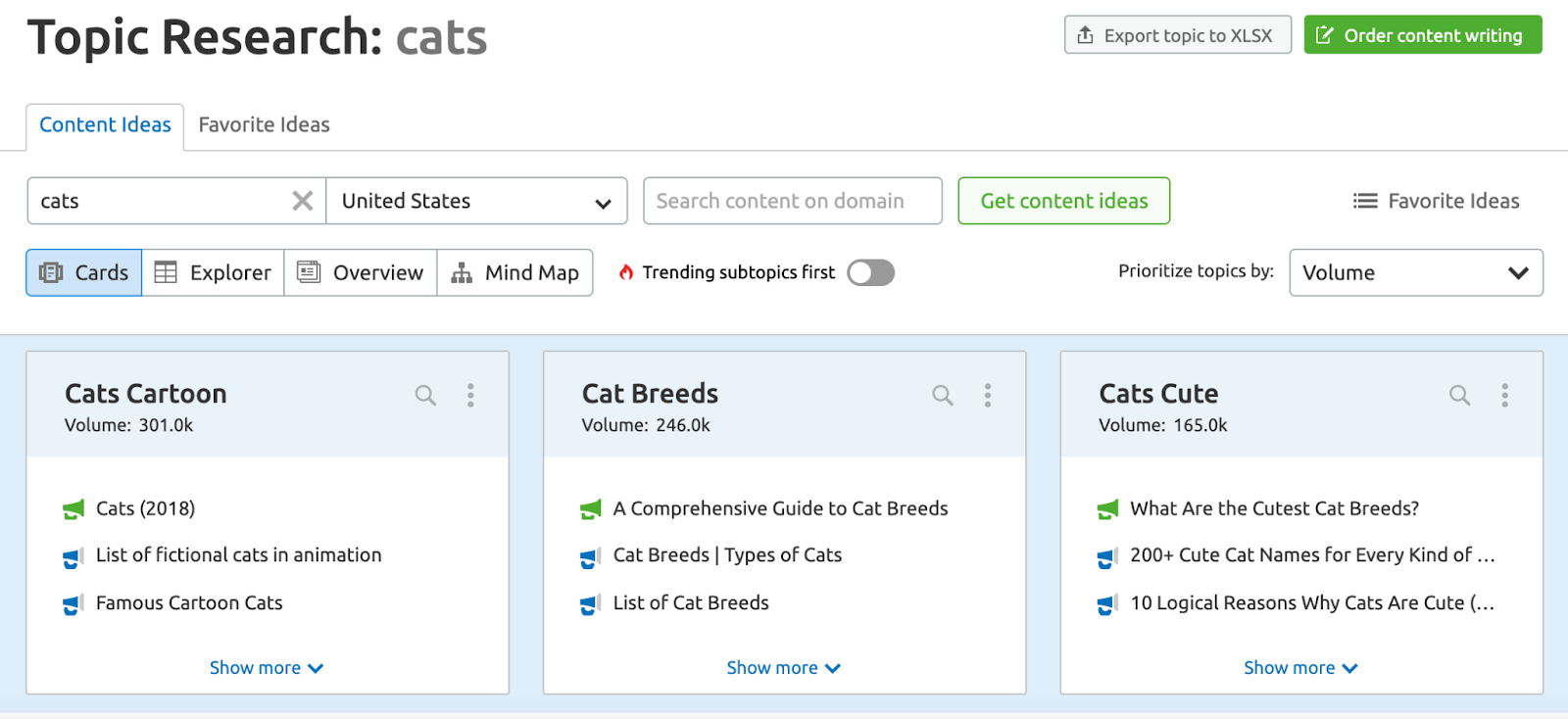 For your convenience, you can switch the view from Cards to:
Explorer — if you prefer working with tables.
Overview — if you want a condensed version of the report.
Mindmap — if you like a more visual representation of your topic cards.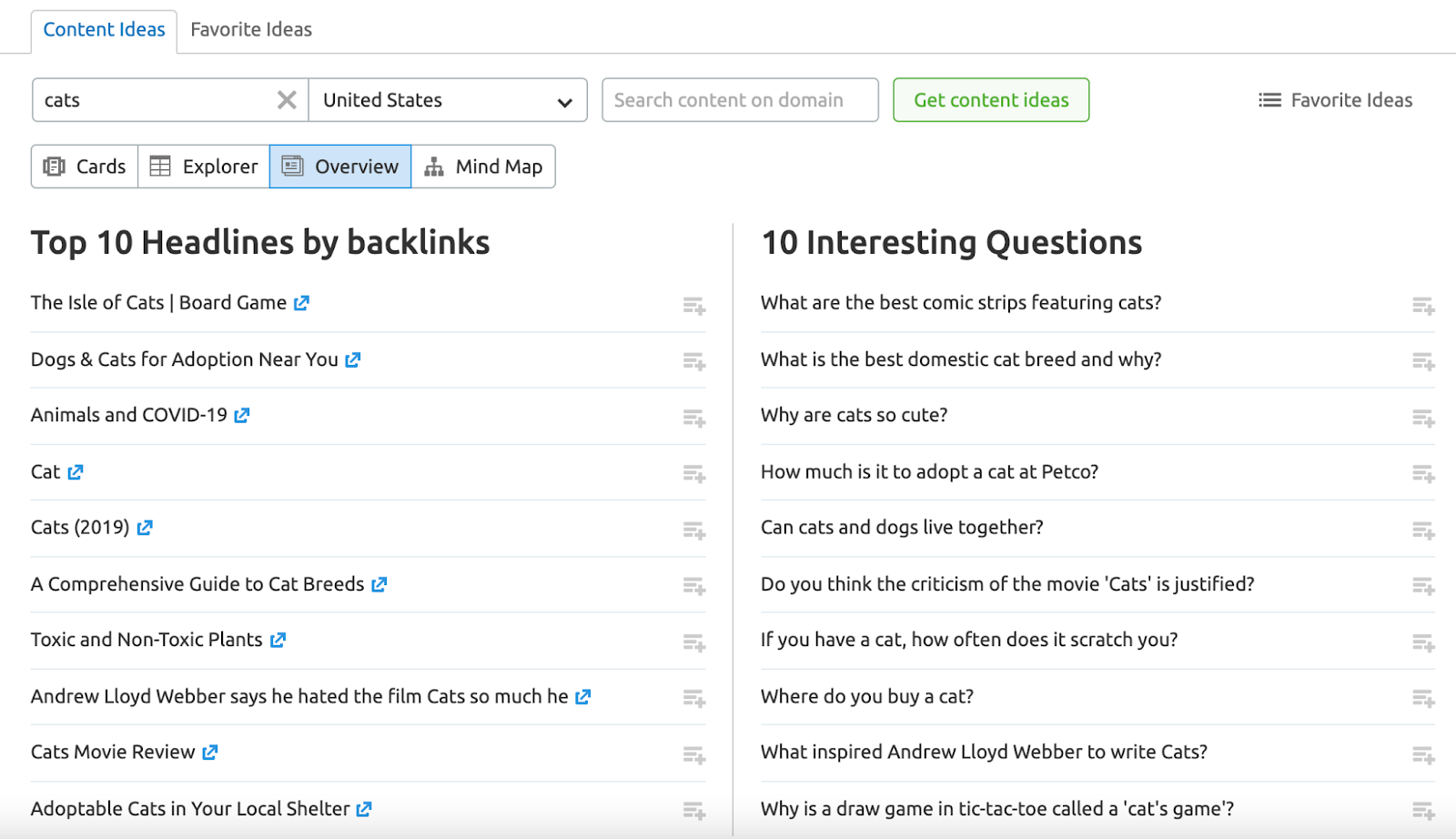 Whichever view you choose, you will be presented with the top:
Headlines — The most resonant titles prioritized by the number of backlinks the pages have.
Questions — The most common questions people are asking on the topic. Answering these in your content will bring more value to it, and give you a chance to appear in the Featured Snippet on SERP.
Related Searches — The terms that are frequently queried along with the analyzed topic in Google search. Use them to understand the user's intent better and enrich your content accordingly. Click on one to regenerate the Topic Research for it.
Add Headlines and Questions to the list of Favorite Ideas, and use it to shape up your content plan and create the most engaging pieces.
Tracking Keyword Performance
Position Tracking
After you've found the best keywords, bid on the most cost-effective ones and created new content for the low-competition ones, it's time to track how well you're doing.
Simply enter the URL of the site you want to see keyword rankings for, select the device and location, and add your keywords.
You can simultaneously target multiple device types and geographic locations, down to ZIP code level, find SERP features opportunities and your local competitors.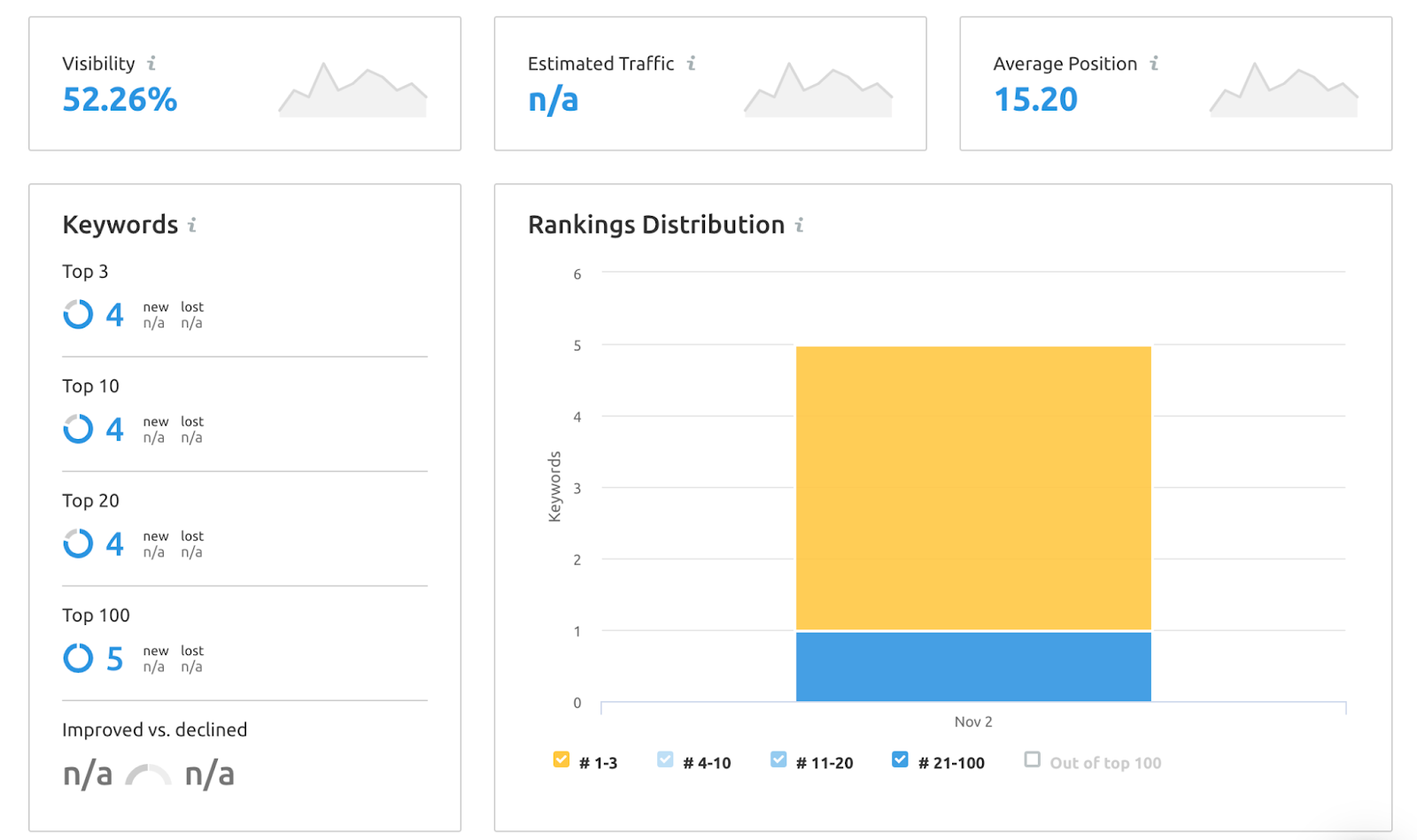 Advanced Keyword Research Solutions
Semrush provides various keyword tools to go along with your keyword research workflow. Let's look at some advanced solutions you can use on Semrush.
Find (Not Provided) Keywords — Organic Traffic Insights
Organic Traffic Insights will help you analyze your website's organic search performance by combining your Google Analytics, Google Search Console, and Semrush data within a single dashboard.
This integration of three data sources ensures that you are getting the most accurate and complete keyword data (including the 'not-provided' keywords from Google Analytics).
Analyze your keywords' search intent metric
Once you've identified your keywords, you'll want to take a look at their search intent. In other words: what are users looking for when they type in these terms? The search intent filter helps you identify and bucket your keywords into several categories:
Informational — Searches that look for an answer to a specific question or general information about a topic.
Navigational — Searches that look for a specific site or page.
Commercial — Searches investigating a service, product, or specific brand. These keywords are generally used when a searcher has the intention of making a purchase at a future time.
Transactional — Searches looking to make a purchase or perform or perform some other type of action.
By knowing the search intent behind all of your keywords, you can create a content strategy that targets searchers at the exact right step of their search or purchase journey.
Take a look at the example below. Here, the search intent filter reveals some very helpful insights about what people are looking for when they search "cat food."
The tool has identified "cat food" as a commercial keyword. This means that searchers are looking to explore different cat food brands when they type in "cat food."
The keyword "Blue Buffalo cat food" is, on the other hand, transactional. Searchers are likely further along in the purchasing process and would like to buy this specific brand of cat food.
So, if you're a retailer that sells cat food and you're targeting "cat food" keywords, you might want to build out web or blog "cat food" content that explores different types and brands of cat food so that searchers can make an informed decision on their purchase.
Optimize Your Ad Groups — PPC Keyword Tool
Use the PPC Keyword Tool to organize your target keywords into ad groups and optimized campaigns for Google Ads.
You will be able to plan out ad groups, automatically generate cross-group negative keywords for your campaign and export the plan to a file for seamless integration with Google Ads.
Another important feature is its ability to provide keyword CPC and search volume on a local level for a specific city or region.
Track SERP Changes — Sensor
Our Sensor can measure volatility in search results for your keywords to help you catch up and react to any sudden fluctuations. Whether it is a result of Google's algorithm or something happening in your industry, you will know first.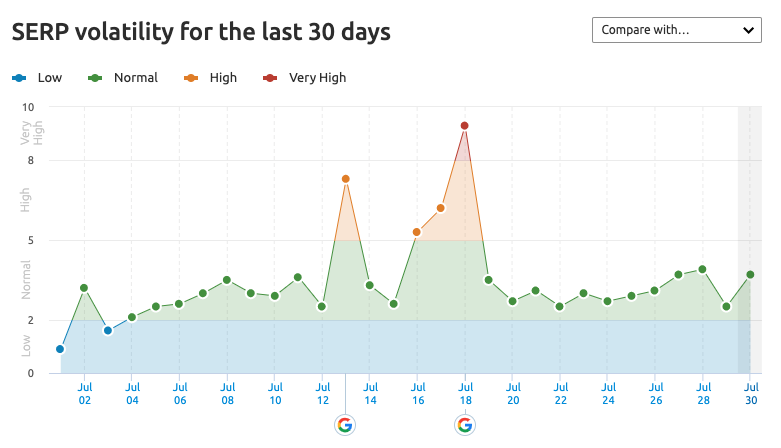 Measure Off-Site Content Performance — Post Tracking
Content partnerships are a great way to build links and promote your brand, but measuring the success of your efforts can be hard without the right tool.
The Post Tracking tool lets you monitor the performance of your content on external sources. Just set it up in your Semrush Project and check out the keywords, backlinks, social shares and referral traffic from any URL you're promoting on another site.

Keyword Research Glossary
​​​​​​​Keyword research terms you need to know
Ad keyword — The query that triggers paid results.
Click Potential — A metric used to gauge the predicted chance of getting a click through to your website if your search result occupied the top position of the SERP. Click Potential depends on the presence of SERP Features that would hinder searchers from clicking on an organic website results.
Common Keywords— Keywords for which multiple domains rank among the top Google search results.
CTR (Click-Through-Rate) — The percentage of people who clicked on an ad or a link in search results out of all those who saw it.
Cross Group Negatives— A method of optimizing a Google Ads campaign via implementing one ad group's keywords as another ad group's negative keywords. This prevents your ads in separate ad groups from competing against each other and harming click-through rate / quality score.
Featured Snippet— The most prominent SERP feature that appears on top of search results and provides the most relevant answer to a query.
Keyword (search term, query) — A word or phrase used in an online search.
Keyword difficulty (level of competition) — An estimation of how hard it would be to rank high for a keyword in organic search or how pricey it would be to appear in ads. You need to analyze the difficulty level to choose your battles wisely.
Local Pack — SERP feature that appears for queries with local intent or includes a geographical name (e.g. 'pizza near me,' 'best pizza in Philly').
Long tail keyword — A long tail keyword is a search query that falls within the "long tail" of the search demand curve. These are keywords with low monthly search volume, but usually have a more specific searcher intent and a higher probability of conversion through SEO or PPC. You can find long tail keywords in Semrush by using the Keyword Magic Tool and adding filters for number of words, keyword difficulty, volume, and more.
Negative Keywords— Keywords that allow you to choose what not to target with a Google Ads campaign. Just like regular keywords in an ad campaign, negative keywords can be set with match types such as exact match, phrase match, and broad match. When you add a negative keyword to your campaign, your ads will not appear in the search results for that search. This practice helps advertisers save budget and maximize ROI.
PPC (Pay per Click) — An internet advertising model used to bring traffic to the website through the means of paid ads (Google Ads). Choosing the right keywords is essential for the success of a PPC campaign. There are three forms of payment:
CPC (Cost per click) — Advertisers only pay when the ad is clicked.
CPM(Cost per impressions) — Advertisers pay for the number of times an ad is shown.
CPA (Cost per acquisition) — Advertisers pay when users have fulfilled the determined objective.
​​​​​​​​​​​​​​Search intent — There is a specific intention behind every search query, and competent keyword research should not only answer what people are looking for but also why they do it. Of course, the intent behind a keyword is not always crystal clear, but usually, it falls into one of four distinct categories:
Informational — Searches for the specific information, whether it is a simple answer to a question or detailed coverage of a topic.
(e.g., 'how to cook eggs for cats')
Navigational — These searches aim to locate a specific webpage or site; usually includes the name of a brand, product, or service.
(e.g., 'facebook')
Commercial — This type of query is conducted by people who consider a purchase and want to investigate their options.
(e.g., 'best cat toys')
Transactional — Searcher is looking to purchase something.
(e.g., 'buy cat toys')​​​​​​​
SEO (Search Engine Optimization) — The process of growing a website's traffic income via the organic search engine results.
SERP (Search Engine Results Page) — The list of web pages provided by a search engine for a query.
SERP feature — An added layer of information or context on top of a regular search engine result. There is a great variety of SERP features, triggered by all kinds of keywords.
Volume — A fundamental keyword metric, it shows the number of searches for a particular keyword in a given timeframe (usually per month). Bear in mind that keyword popularity can be affected by seasonality (e.g., 'black friday deals').
Web traffic — Simply put, this is the flow of visitors coming to your website. The quality and quantity of traffic define the success of a website or a page. There are different ways people can get to the pages of your website, but we will focus on the two main traffic sources that require keyword research:
Organic search traffic — Visitors who came from an unpaid search engine result; this kind of traffic is crucial for the long-term success of a website.
Paid traffic — Visitors who came from paid sources (advertising).