We use affiliate links. If you purchase something using one of these links, we may receive compensation or commission.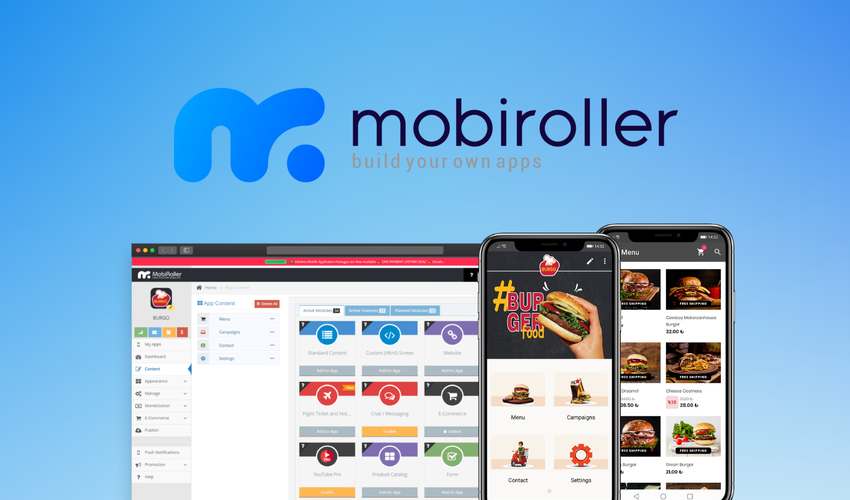 Dreaming up ideas for mobile apps without being able to code them yourself can feel like coaching a sport you've never played. ("The developers keep calling me Ted Lasso.")
But coding boot camps and outsourced projects take time, cost a lot, and still don't guarantee an app that meets your vision.
Luckily, even without the ability to code or the resources to hire a developer, there's a powerful way to make an app with ease.
All you need is Mobilroller.
Build your own Android and iOS app without any coding, then publish it on the market
Alternative to: Shoutem, Passion.io, and GoodBarber.
Add ads, create subscription-revenue models with in-app purchases, or design powerful ecommerce stores.
Best for: Solopreneurs and small businesses looking for an easy way to develop high-quality mobile apps for ecommerce and beyond.
Mobiroller is a self-service mobile app platform that enables you to create monetized apps for ecommerce stores, restaurants, and more—no coding experience required.
Mobiroller puts app-building into your hands, allowing you to customize apps for online education, finance-crypto, fitness, and so much more.
The easy-to-use platform lets you create your app in minutes using a drag-and-drop builder.
Choose a design template from one of the platform's categories or upload your own designs for further customization.
You'll be able to produce advanced, fully-customized mobile applications and publish them to the Google Play Store, Apple App Store, and Huawei App Gallery in no time.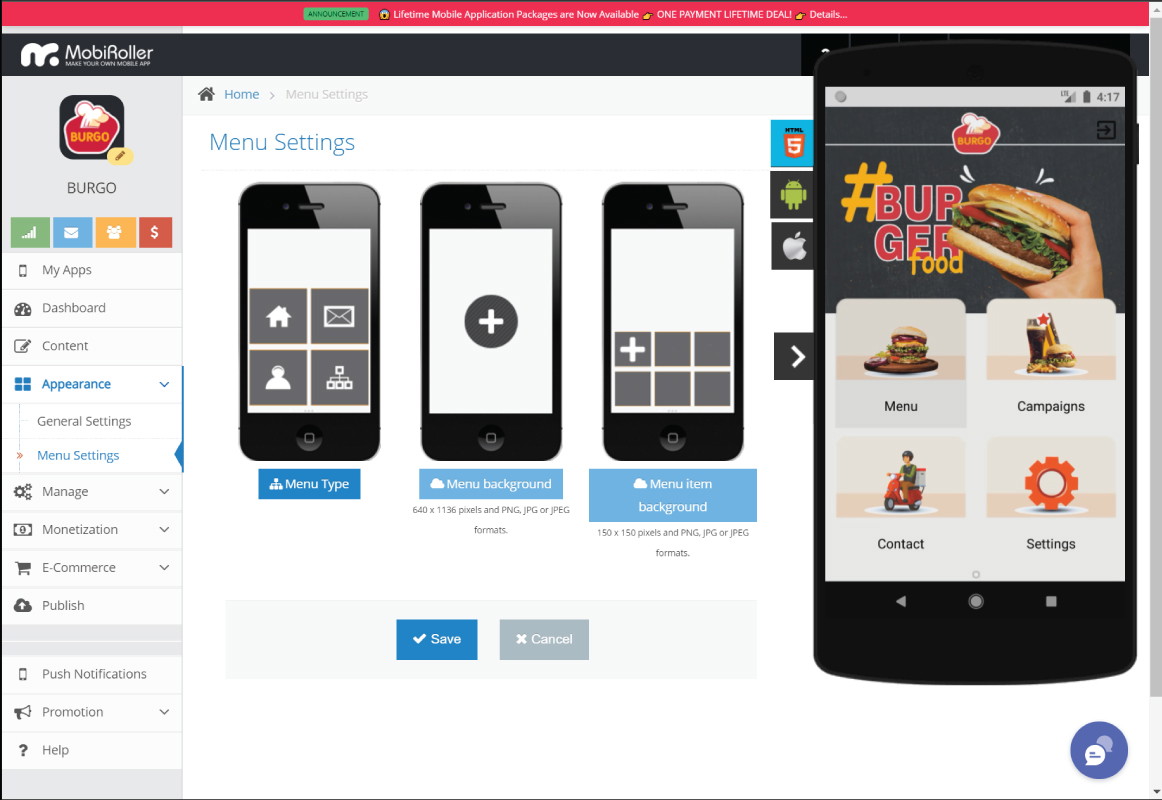 Choose from a design template or upload your own designs, and then use any of the advanced menu types.
Mobiroller's smooth interface panel experience lets you add 40+ advanced features to your application through a simple drag-and-drop functionality.
Earn money by adding ads to your application, using dynamic ad options to increase income as traffic increases.
You can also choose to create paid screens using in-app purchases where users can see special screens by paying a subscription fee.
Plus, you'll be able to integrate Mobiroller with your existing apps and workflow products like Paximum, AdMob, Google Play, Firebase, Twitter, Iyzico, AnnounceKit, YouTube, and PayPal.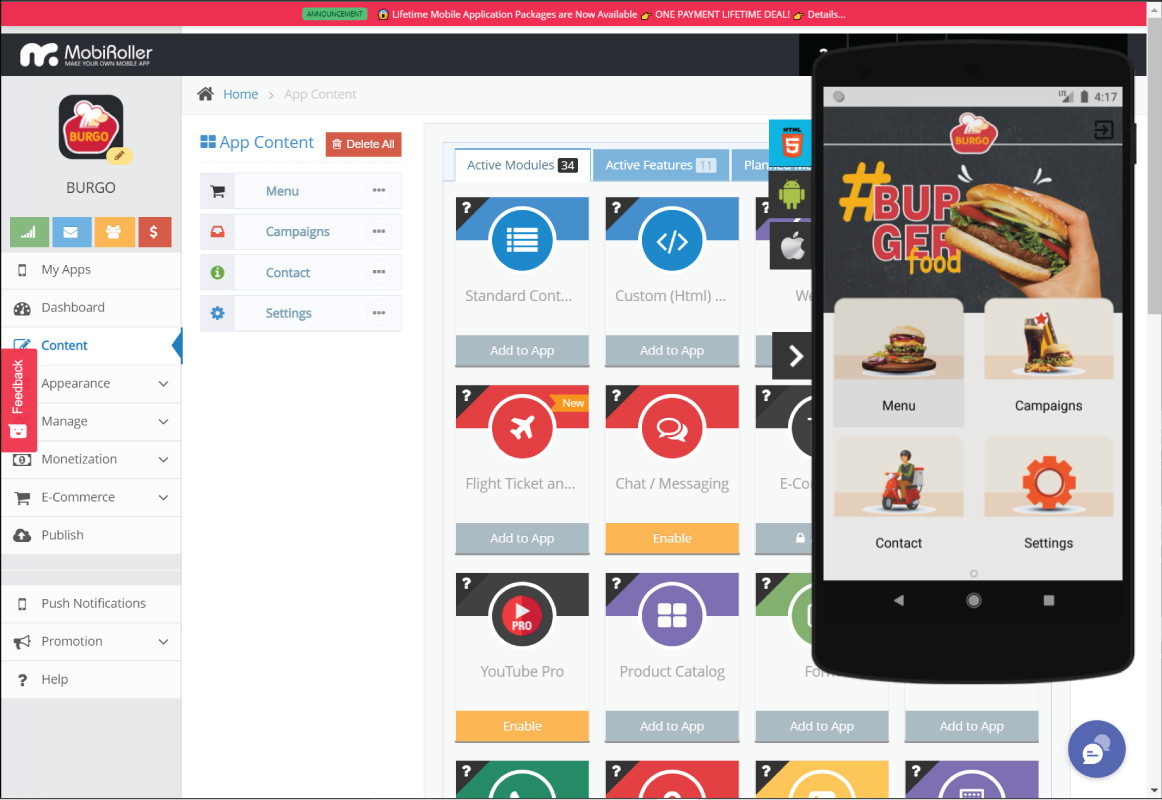 Use the 40+ advanced features to design app content by just dragging and dropping!
Mobiroller makes it easy to turn your mobile app into an advanced ecommerce platform for displaying and selling products, including in-app ads or subscription models.
Your store's own mobile application will allow you to manage a shopping experience complete with product, order, and stock management.
You can even add different payment methods, offer advanced shipping settings, and send app notifications through push notification integration!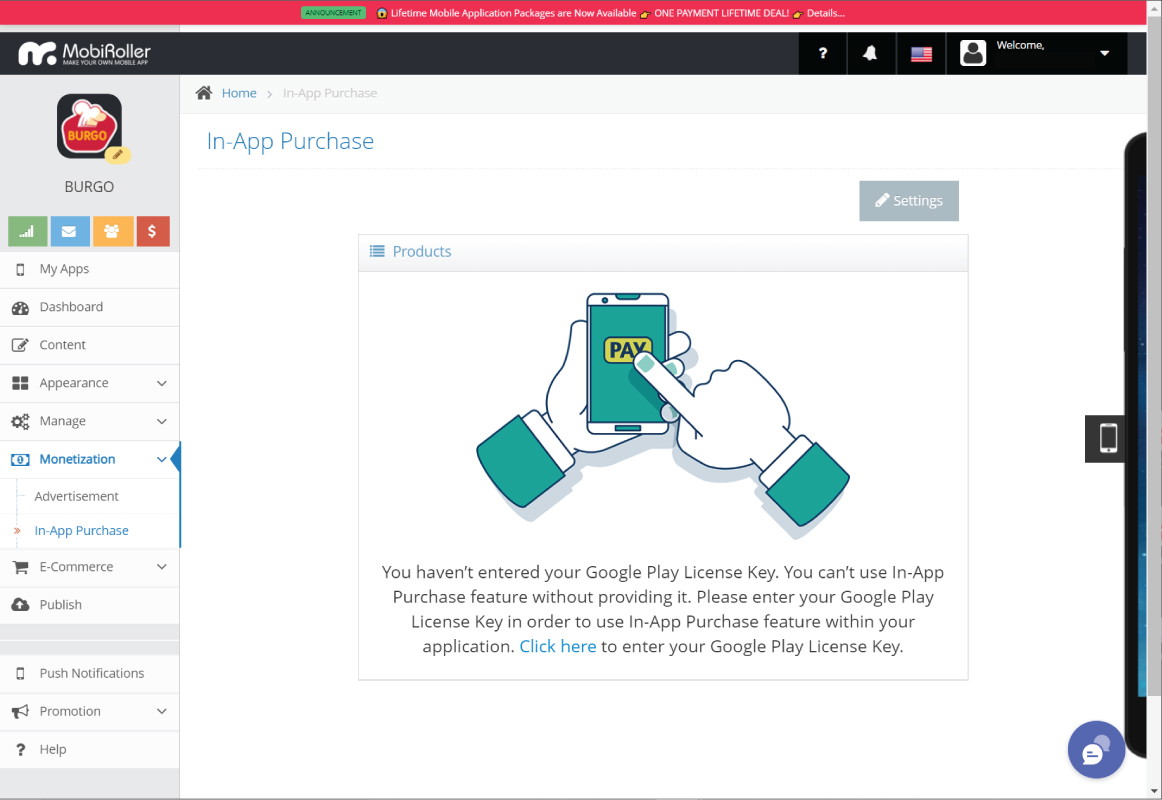 With the in-app purchase feature, you can create subscription-based models and earn money off of user interaction.
Along with making your own mobile applications, you can create and sell applications for a profit with Mobiroller's multiuse layouts.
The Mobiroller Reseller Program lets you design apps and monetize production for your clients and customers.
New to the platform? Take advantage of the Mobiroller Knowledge Base with app-building basics, instructions on how to add it to stores, and even a seven-step quick start guide.
Plans and features
Deal Terms 
Lifetime access to Mobiroller
All future Reseller Plan updates
No codes, no stacking—just choose the plan that's right for you
You must activate your license within 60 days of purchase
Ability to upgrade or downgrade between 4 license tiers
GDPR compliant
Only for new Mobiroller users who do not have existing accounts
60-day money-back guarantee, no matter the reason
Features Included in All Plans
Ad revenue
Native Android and iOS app
Ecommerce (unlimited products)
In-app purchases
Multi-language
Advanced analytics
iOS publishing support
User roles and groups
Group targeted notifications